Happy New Year errybody! Now I know we're already 6 days into 2015 and it might be a bit late for this post BUT I'm going to publish it anyway for my fellow procrastinators who may have left planner picking to the last minute. I did a good deal of online searching and came up with a short-list of 4 planners that you might want to purchase for yourselves. Enjoy!
1. Frankie 2015 Daily Journal
Dimensions: 210x144mm
Price: $26.95 AUD
Where to get it: Online (ships internationally) and in some NewsAgencies (The Lucky Charm Newsagency -located at The Galleries Victoria (Sydney), literally the first stall you see when coming out of Town Hall Station-is one of the few that I've seen that have it)
I have been dreaming of getting a Frankie Journal since 2013, which was pretty much the  same year that I found out that this magazine existed, mostly because of the cute illustrations/designs that they always have. And this year's edition is no different, of what I've see of the new planner I can say that Sara Hingle did an awesome job with the monthly illustrations. They've got a few little extras in it too, like gift tags, stickers and a back pocket for safe keeping loose sheets and what not.
This baby is 164 pages long and can be a bit heavy. For someone like me who constantly carries more than what she really needs in her bag, something thinner and lighter would be more ideal. Aside from the price point, its bulkiness was another reason why I chose not to purchase this pretty little thing. Because to be honest, I really didn't want to lug another heavy weight around especially with the travelling and moving I've got planned for this year.
2. Kikki.K 2015 Monthly/Weekly Diary: Sweet
Dimensions: Available in A5 or A6
Price: $14.95 – $32.95 AUD
Where to get it: Online (ships internationally) and in store
Kikki.K do a lot of cute diaries (check the others out here) but this one stood out to me the most. This one comes with a PVC jacket, which makes it even more attractive to my accident prone – drink spilling self, and some cute stickers. But, what I love about this planner is that it isn't too bulky and has just enough space to write tasks and notes on. Personally, after having owned a few hardbound planners I now tend to lean towards the more flexible soft-bound ones as I find that they tend to handle daily wear and tear a bit better and are much lighter in comparison.
3. Typo A3 Magnetic Planner
Dimensions: A3, comes in three other styles
Price: $19.99 AUD
Where to get it: Online (ships internationally) and in store
Unlike the first two, this planner is meant to be used either at home or in the office. The one downside to this is that you have to constantly update it at the end/beginning of your week, as opposed to a regular yearly planner where you can just jot stuff down under a particular date. But, if you're earth conscious and into the paperless movement then this would definitely be good for you.
Personally, I see this more as a supplement to your traditional date book as opposed to a planner on its own. I feel that this would be great for families to plan meals or kid's games and people that need to see what their whole week is going to be like at a glance.
4. DubuDumo A6 Weekly Planner Notebook (Etsy)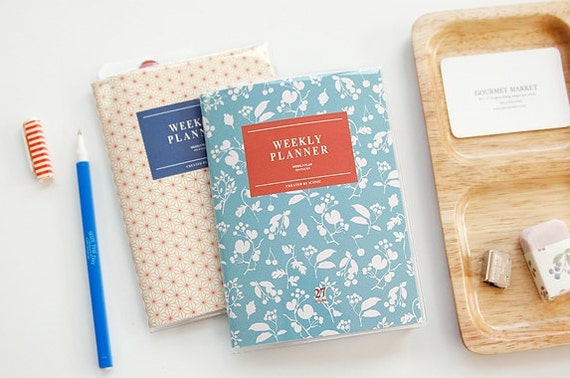 Dimensions: 105 x 145mm, comes in three other styles
Price: $ 8.48 AUD
Where to get it: Online (ships internationally)
I found this little gem as I was scrolling through Esty, as you do, a couple of weeks ago. This planner comes with a PVC jacket which, as I had previously mentioned, is always good for clumsy folk (like moi) and that's basically it. There aren't any fancy gimmicks with this one and its pages are pretty simple too. If you're into fully customising your planners then I would definitely recommend that you give this one a go.
Still patiently waiting on mine to arrive as I ordered it about 11 days ago. But I've been told that stuff coming from Korea to Australia takes a minimum of two weeks to arrive so I'm not too worried about it. Although I do recommend that if any of you order from this shop to add registered shipping to your order (I wish I did this tbh!). It costs another $3.16 AUD extra, but it's well worth the peace of mind. Also, if you're super into stationary then be forewarned you will be tempted to throw all of your money at this shop. I had to physically stop myself from scrolling just to prevent any "accidental" purchases.
Well, that's pretty much it for now and I hope I was able to help my fellow last minute shoppers out. Any readers out there that have already purchased a 2015 planner? I am keen to see what you guys will be using this year so please feel free to share them in the comments.
'till the next blog! xx